If You Have an iPad Dark Horse Needs You!
Here is the message Dark Horse sent out for Beta Testers. Join up and get something free!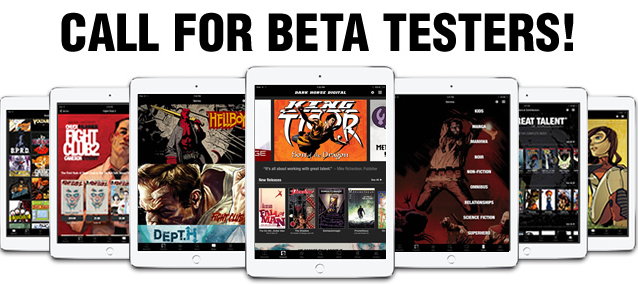 We've been working hard to improve the Dark Horse iOS app and now we need your help!
PRIZES FOR SUBMITTING THE BEST BUG REPORT
We're looking for beta testers for the next update. We will be rewarding testers that provide the best written, most actionable feedback that help us make the Dark Horse app the best it can be. The tester who, in our judgement, provides the best feedback will receive $50 in-store credit on Dark Horse Digital. The second and third best will each get $25 credit. We will select and notify the winners within 7 days of the release of this update.
Got the point already and want to get started? Just click this link from your iPad or iPhone, and follow the instructions here: https://testflight.apple.com/join/Otko4RrC.
WHAT DO WE MEAN BY ACTIONABLE FEEDBACK?
A crash, a bug, or something we need to fix. Here's what we're looking for:
A crash or bug has consistent steps to reproduce it.
A crash either causes the App to close or freeze/lock up.
A bug is unexpected behavior. This doesn't mean it's not doing what you want. It means that the app isn't doing what it is designed to do.
If you are not sure if it's a crash or bug but something is definitely off/not behaving well, please submit it!
WE'RE ALSO LOOKING FOR FEATURE SUGGESTIONS
This app is for you, our comic readers! A feature is something that enhances our app's usability, improves the reading experience, purchase path, etc. Here are some examples :
Displaying your bookshelf as a list
Allowing you to select multiple books on your bookshelf and download them or archive them all at once.
From the store or bookshelf, download whole bundles or series all at once.
Please note: We have no control over the quality of your internet connection. Also, we cannot make very, very old iPads work faster, would that we could.
HOW DO I REPORT BUGS?
Please use the contact form in the app Settings, which is available by tapping the gear in the upper right-hand corner and then tapping "Help". You can also send email to iosbeta@darkhorse.com. Please don't forget to include steps to reproduce any bugs you are reporting.
OK, I WANT TO HELP! HOW DO I GET STARTED?
Just click this link and follow the instructions: https://testflight.apple.com/join/Otko4RrC.
Thanks for your continued support! And for the help!
~The Dark Horse Digital Dev Team